Skip to the content
Looking for an Indonesian language course?
We're ready for you!
Our teaching team has helped thousands of international students learn Indonesian quickly and naturally. Some of our programs include regular classes, Indonesian for specific purposes, intensive Bahasa Indonesia course, and language immersion program.
Why take our Indonesian course?
Highly qualified teachers
All of our teachers are experienced and certified to teach Indonesian
Maximum exposure
We try to have our lessons entirely in Indonesian language
Audio Lessons
Our course includes audio lessons of daily conversations and mini stories
Spaced Repetition App
We provide scientifically proven flashcards app to remember vocabulary long term
Authentic Materials
Our teaching materials are the things that Indonesians really use in everyday life
Personalized learning
We adapt our teaching to meet your learning styles and language needs
Student Testimonials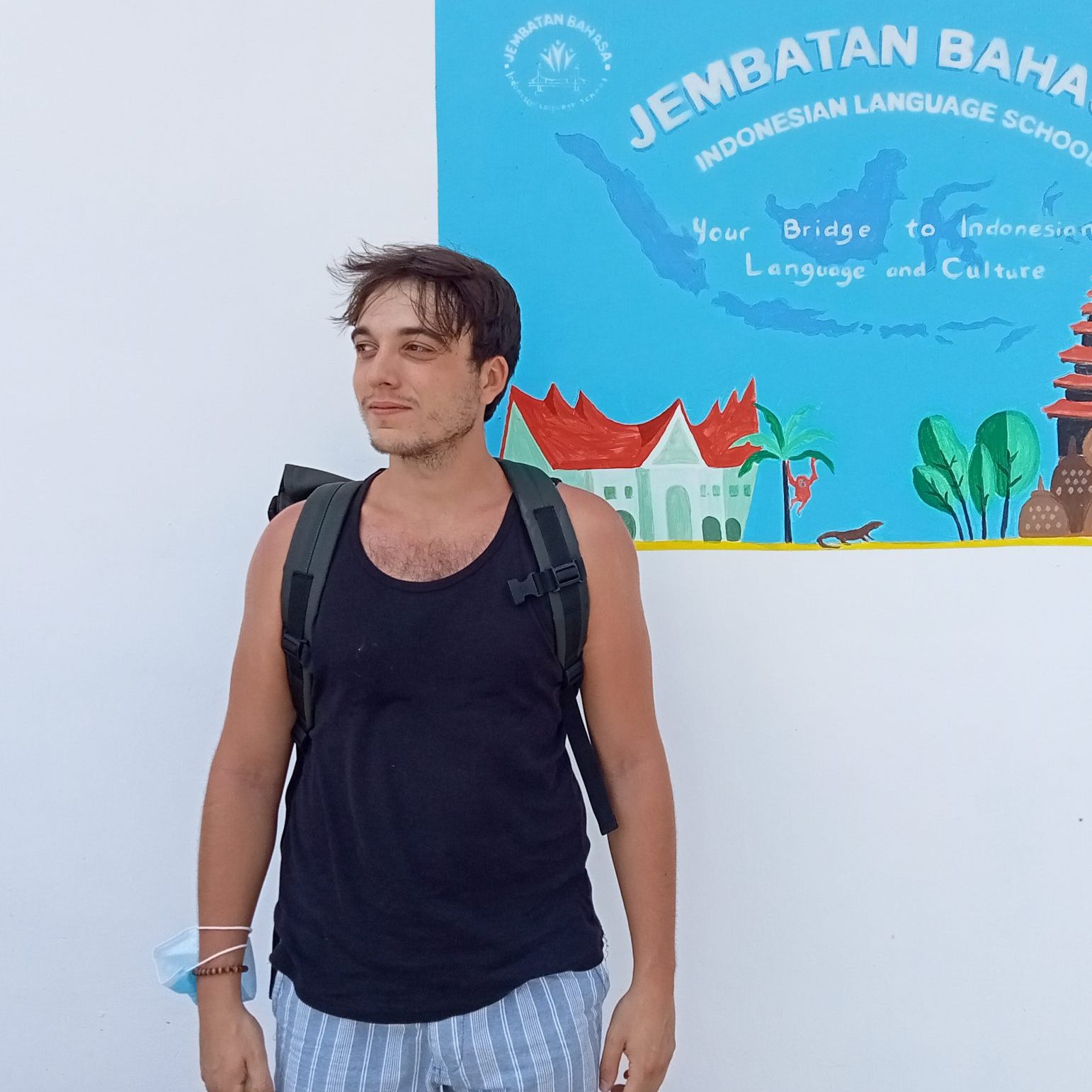 "By far the best Indonesian language school I've learned at. The setting is fantastic, their book is super well-structured, and my teacher was incredibly patient and resourceful. I fully recommend Jembatan Language School"
Ozan Luis Harman
Switzerland
"I recommend the Jembatan Bahasa School – please feel free if you have any questions about my experience. On the first week, I enjoyed an introduction to Indonesian language course and have learned basic expressions, pronunciation, and about the structure of the language. I will definitely continue studying Bahasa Indonesia with the help and teachings of Jembatan Bahasa. The teachers followed a clear outline and exercise sheets were handed out. Additionally I felt that the teaching didactics (mostly immersion based learning) were thought trough and helped to gain the basics in an effective and efficient way."
"I've been taking Indonesian classes for 3 weeks already and and I'm very satisfied! I can already see the results and I can't wait to continue. This school was recommended me by some friends, they were also very satisfied and I also brought my mother! She loved it. I really recommend this school to learn indonesian, the teachers are amazing."

Trevor Gerhardt
United States of America
"Excellent teachers and a welcoming environment for learning bahasa Indonesia. Would highly recommend for anyone who wants to take a Bahasa Indonesia course! Terima kasih Jembatan Bahasa 🙏"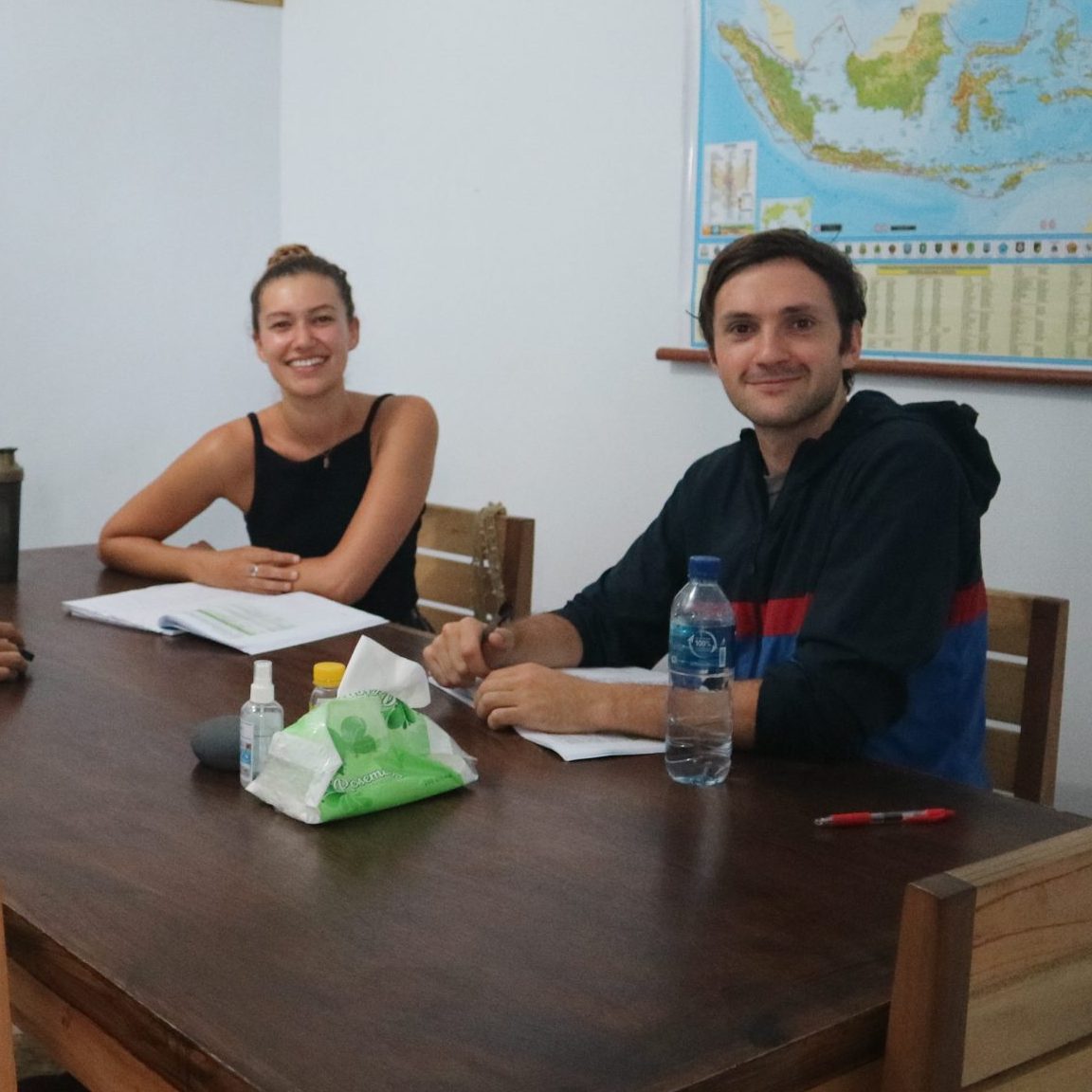 Caitlyn Roux
United Kingdom
"My partner and I really enjoyed taking Indonesian lessons with the Jembatan Language School. In total we did 20 hours. They were professional and accommodating. The classes were fun and we really got to learn the basics of Indonesian. We're now able to communicate with Balinese people who can't speak English very well. We would highly recommend taking lessons at this school!"

"Pak Soma is honestly the best Bahasa teacher in Bali. He is patient, funny, and kind. His approach is completely different from other teachers as well; you speak Bahasa for the whole lesson (even if you only know a few words and have google translate), which means you progress really quickly. He is so supportive and classes feel like you are sitting and chatting with a friend (which you are!). If you want Bahasa classes and you live in Canggu, you should definitely contact Soma."
*Read more testemonies of students who have taken Indonesian lessons with us on Google and Facebook
Some of our clients
We are trusted by these organizations to provide Indonesian courses to their staff and clients.
Click here to see all clients.
Our Community Partners
To learn more about our community partners, click here
Ready to start your Indonesian course?
Go to this page to choose an hour package and click the 'Take this' button to book your course. Sampai jumpa di kelas - See you in class